Why do you need to fill in these details?
By providing your clinic details into the Brightsquid account:
Your potential patients can find you and be confident that they have found the right practice they were looking to connect with
Adding your correct details establishes a better credibility of the clinic.
Note that some information is available only to be viewed by Brightsquid and the admin of your practice.
Who can edit Clinic Profile?
The Clinic Profile can be edited only by the subscription Admin. For every other Secure-Mail user or a practice, this tab will be greyed.
Below are the steps that the subscription Admin needs to follow to edit the Clinic Profile:
Step 1: After logging into your Secure-Mail account, click 'Settings' at the bottom of the vertical panel on the left.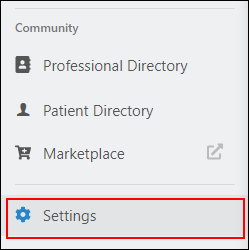 Step 2: Click the 2nd tab which is called 'Clinic Details'.



Step 3: Below are the fields that you can edit:
Clinic Name – Enter your clinic name.

Clinic Type – Click the drop-down to select the most appropriate clinic type that resonates with your practice.

Clinic sub Type - This is the area of expertise that your clinic specialises in.

Phone, Fax, Address – Populate these fields with all the correct data.

Country – Select your country
Province/State – Select your province/state
Postal/Zip Code – Enter your postal/zip code
City – Enter your city
Email – Enter your email address here.

This field ideally should have the email address of the admin. The 'eye icon ' symbolises that this field is hidden from public view.
Website – Enter the website address of your practice.

Business Registration Id - The eye icon symbolises that this field is hidden from public view.

Healthcare Facility Registration Id – The eye icon symbolises that this field is hidden from public view.

Receive Messages - (This feature is active by default and allow patients to communicate with the clinic via the 'Shared Inbox'. To directly get messages from a patient, please refer to 'Personal Details' support resource.)

Step 4 – If at any point you want to undo the changes to what they were before you began editing, click 'Reset' at the bottom of the page and the changes will be reversed to what they were initially.



Note that if you click 'Save' first then the changes will be permanent.
Step 5: Once you have made all the desired changes and you are certain of the correctness, click 'Save' to make these changes permanent.