Your Brightsquid User Account may be associated with multiple clinics or organizations. This allows users to move from clinic to clinic on-demand and allows for administrative tasks can be handled across multiple organizations by a single user.
By default a user's account is assigned to a single clinic when the account is created. Typically accounts are created when the practice administrator invites a user via their email address to join Brightsquid as an internal colleague (or coworker).
If an existing Brightsquid account holder wants to join another practice they will need to be invited by that clinic's administrator through the Clinic Member's page.
Inviting an Existing User to Join your Clinic
As the administrator, log into your account and go to Settings -> Clinic Members -> +Add New User
These steps are covered in more detail here.
If the email address of the user you are adding is already a registered Brightsquid user, you will see a green notification message (see below). Complete the invitation page to send an invitation for that user to join your clinic. The new user will be a full member of your clinic until they accept the invitation, however they will immediately appear in the directory as a member of your clinic.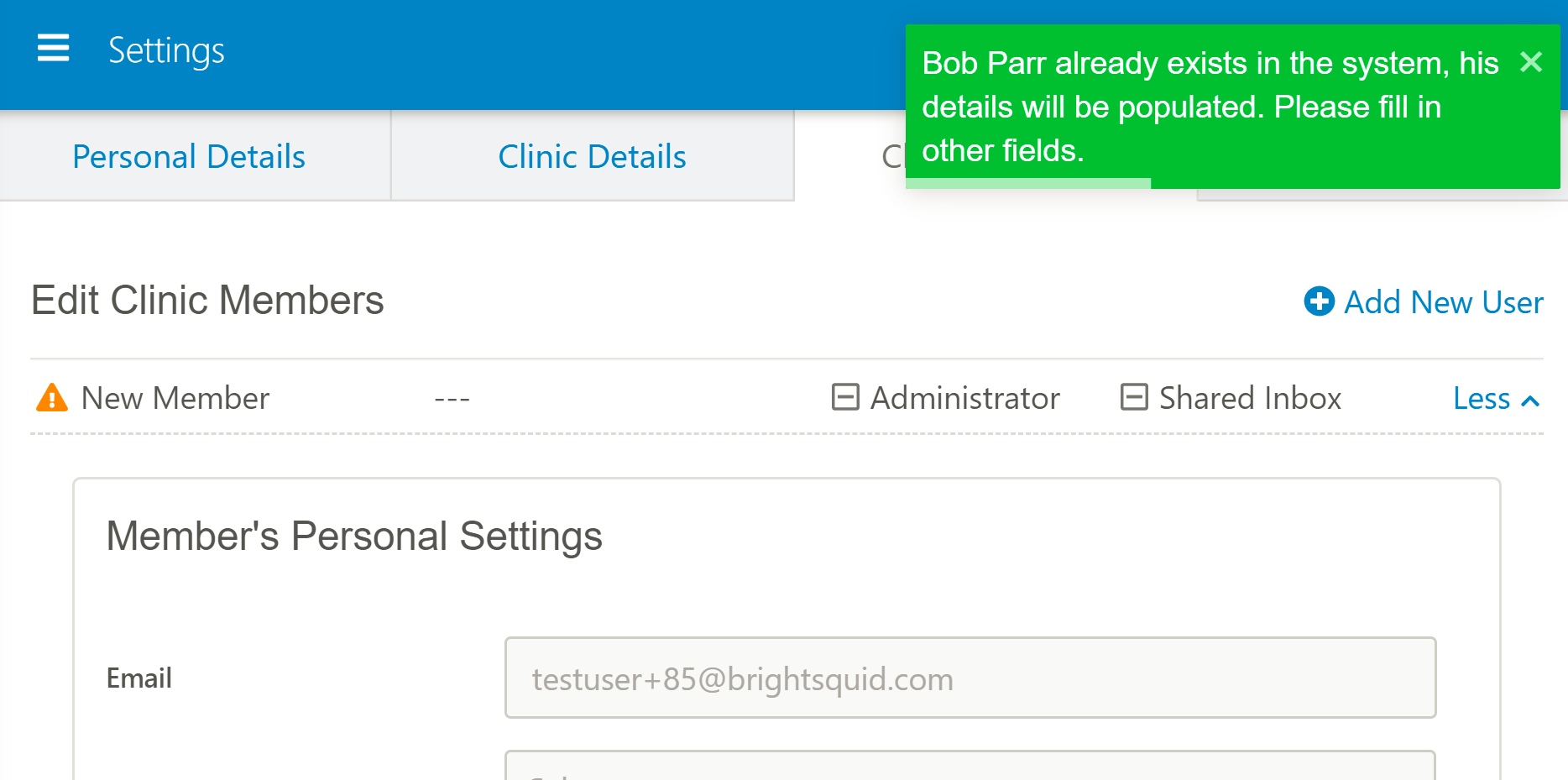 Note that when a user is invited to join your clinic they may have different permissions and roles from one clinic to the next. That is, Bob may have Administrator access in Practice A, but may not have the same level of access in Practice B. The same applies Shared Inbox access and whether or not patients and/or professional users may message Bob directly. It is the Administrator(s) in each clinic that controls the permissions of each of that clinic's members.
Navigating Between Clinics
Once a user has been invited and accepted an invitation to join a clinic they will be able to "toggle" their currently active clinic on demand.
If a user has Multi-Clinic Membership they will see their current "active" clinic displayed in the top right corner of their screen when logged into their account. To switch to another clinic you have access to, just click on the current clinic name to display the list of clinic that are available to you.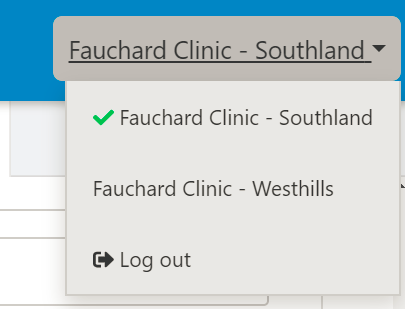 Important Notes
Users must be invited to join clinics, they cannot join without an invitation from a clinic administrator

When users leave a clinic or are deleted from its membership they will no longer have access to the message history associated with their time at that clinic