The Brightsquid Secure-Mail service was designed and built for the express purpose of securely and compliantly sharing patient health records. Health Care Providers who are subscribed to Secure-Mail can use the service to share patient records with other Providers and/or the patients themselves.
Medical Professionals who are invited to Secure-Mail by their colleagues need only to register a free account to gain access to the system. Once registered, patients will have the ability to receive information securely and send messages back to other Brightsquid users.
Activating your Account
Activating your Secure-Mail account is very simple. The first notification, as a new user, invites you to activate an account.


Please click on the blue button/hotspot 'Activate Your Free Secure-Mail Account' to get redirected to the account activation form.
Fill in the details of the form. Your email address is used as your username. Choose an appropriate 'Salutation'. There are four to choose from: Dr., Mr., Mrs. or Ms..
Fill in your practice or organization name. If you enter the name of an existing practice, a suggestion to select is provided. Ensure that the details suggested matches your practice before selecting as you will be joining this existing organization as a co-worker.
Otherwise, click the 'x' next to 'Do you mean?' and continue manually entering your practice details to create a new organization.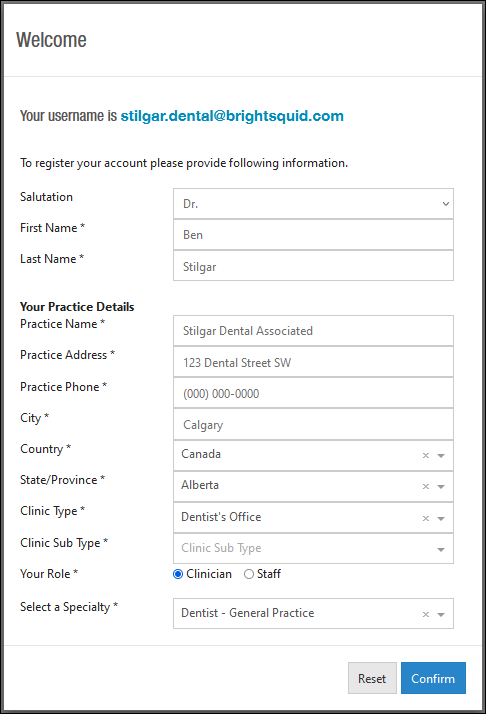 Enter your practice or organization address and contact details. Enter your clinic type. There are currently 14 options to select. If your clinic type is not listed you can choose from 'Clinic – Specialized' or 'Other Healthcare Facilities'. If you are activating an account for the first time, please select 'Clinician'. If you are joining an existing Practice please select 'Staff'. Click the blue 'Confirm' button to proceed to the next stage of the account activation process.

Please enter your preferred password to access your activated account. Your password should be a minimum of eight characters with at least one capital and one number.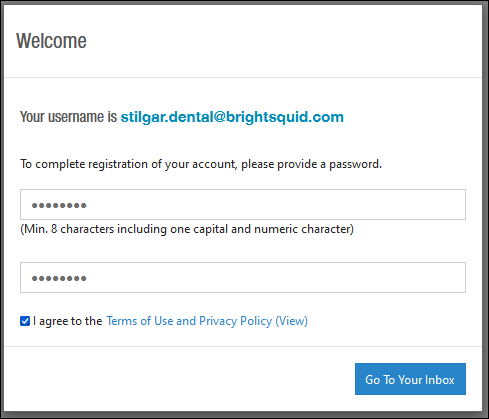 Click 'Terms of Use and Privacy Policy (View)' to read the Brightsquid terms of use for Secure-Mail and other services. Check the box to agree to the Terms of Service. Click on the button 'Go To Your Inbox' to complete the account activation process.
Congratulations you now have a Free Secure-Mail account, as an account holder you can now access the secure information sent to you by other Secure-Mail users. Secure-Mail is a two-way system, and as a free user you can send up to 20 messages per 30 days to other Secure-mail users.
For more information on Secure-Mail please review the following articles:
Free vs Paid Subscriptions - https://support.brightsquid.com/hc/en-us/articles/360038608792-Do-I-have-to-pay-to-activate-an-account-
Getting Started (video) - https://support.brightsquid.com/hc/en-us/articles/360037348611-Get-Started-with-Brightsquid-Secure-Mail
Composing a Message (video) - https://support.brightsquid.com/hc/en-us/articles/360036976012-Compose-a-Message-and-Attach-Files